John's blog on Art, Technology, design and more!
RSS 2.0
The All3DP Giveaway Season Begins! -by all3dp.com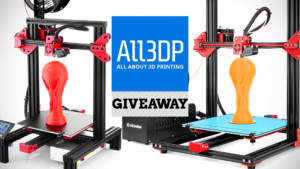 It's finally the festive season, and my oh my are we feeling generous. Over the next four weeks, we'll be giving away 3D printers hand over fist for you, our valued readers. We're kicking things off with a twofer: the Alfawise U20 and Alfawise U30.
Pitched at professionals and hobbyists alike, Gearbest's Alfawise U20 and U30 3D printers are easy to assemble and effortless to operate. Both offer quality-of-life features such as filament and power out detection and generous print volumes. And for this week's giveaway, can be completely yours. Indeed, two lucky winners in our free-to-enter sweepstake will each take either the Alfawise U20 or Alfawise U30 home for a truly joyous Noel.
A special shout out to Gearbest for partnering with us to offer this week's giveaway.
Check out the widget below and enter as you see fit.
This giveaway is live from 11:59:59 am CET, December 6th ,2018 until 11:59:59 pm CET, December 12th 2018.
The post The All3DP Giveaway Season Begins! appeared first on All3DP.
from All3DPAll3DP https://ift.tt/2fJK83h
via RSS
06
Dec
Posted:
December 6, 2018 Thursday at 8:17 pm